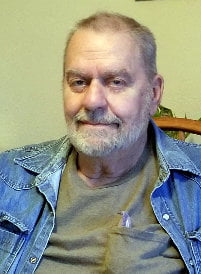 Tyrone Dennis Hoyle, 78, West Plains, Missouri, formerly of Dixon, Illinois and Mesa, Arizona, passed away at 4:45 p.m., Wednesday, May 16, 2018 at his home.
He was born July 6, 1939, at Dixon, Illinois, to John Leslie Hoyle and Esther Ilene Horton Hoyle. On September 8, 1961, he was married at Dixon, Illinois, to Arlene Carr. Mr. Hoyle was a veteran, having served in the United States Air Force. Before his retirement, he worked as a test car driver for GM, a job he loved. He enjoyed fishing, hunting and making pens that he gave to friends and family.
He is survived by his wife of fifty-six years, Arlene Hoyle, of the family home; two children, Timothy Alan Hoyle, Mesa, Arizona and Tracey Kaye Erickson, West Plains, Missouri; three grandchildren, Samantha Hoyle, Paul Erickson and wife Holly and Kayci Bray and husband, Justin; three great-grandchildren, Jasmine, Riley and Presley Erickson; one brother, John L. Hoyle and wife, Jeanie, Hondo, Texas; one sister, Myrna Nixon, Tyler, Texas; and several nieces and nephews.
His parents and brother-in-law, Denver Nixon, preceded him in death.