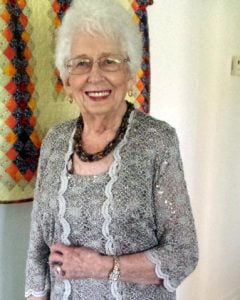 Funeral services for Virginia Ellen Riley Guilliams, 85, West Plains, Missouri, will be held at 2:00 p.m., Sunday, June 4, 2017 in the Rose Chapel at Robertson-Drago Funeral Home.
Mrs. Guilliams passed away at 3:50 a.m., Tuesday, May 30, 2017 at NHC Healthcare.
She was born April 17, 1932, at West Plains, Missouri, to Alfred Lawrence and Effie May Burtrum Lawrence.  Virginia was the baby of the family and was doted on by her older siblings.  On August 27, 1948, she was married at West Plains, to Charles "Cecil" Riley, who preceded her in death on November 6, 1992.  On May 16, 2002, she was married at Eureka Springs, Arkansas, to Bill Guilliams.  As a young woman, she worked at the soda fountain at Wilke Drug Store and had worked at the International Shoe Factory before becoming a full time mother, homemaker and hard working farm wife.  She enjoyed fishing and loved to travel.  Mrs. Guilliams read her Bible every day and was a member of Calvary General Baptist Church.
She is survived by her husband, Bill Guilliams; two children, Jean Ann Prevett and husband, Tom and Mark Riley and wife, Yvonne; son-in-law, Steve Montgomery; four step-daughters, Cathy Roberts and husband, Richard, Brenda Guilliams, Sharon Harrill and Leisha Patrick and husband, Rod; four grandchildren, Caitlin Acklin, Stephanie Montgomery-Mellott, Jessica Montgomery-Goss and Megan Spears; three great-grandchildren, Grayson Acklin, Stone Goss and Anna Peeples; eleven step-grandchildren; fourteen step-great-grandchildren; one sister-in-law, JoAnn Lawrence; and several nieces and nephews.
Her parents, first husband, Cecil Riley, one daughter, Phyllis Montgomery, one grandson, Greg Prevett, one brother, Claude Lawrence, one half-brother, Walter Ray Lawrence and his wife, Fern and two half-sisters, Gladys McKee and her husband, Joe and Ethel Trautwein, precede her in death.
Visitation will be from 6:00 until 8:00 p.m., Saturday, at Robertson-Drago Funeral Home. Burial will be in the Union Grove Cemetery.  Memorial contributions may be made to Union Grove Cemetery and may be left at Robertson-Drago Funeral Home.