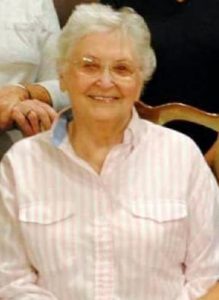 A Celebration of Life will be held for Wanda Sasseen on Saturday, July 21 at the Gamaliel, Arkansas Fire Station from 2:00-4:00 p.m.
Mrs. Sasseen passed away on July 12, 2018.
Wanda, or "Bonnie" to most of her family, was born February 24, 1930 to Coy and Ethel Lane, the 4th of their eight children. On August 31, 1950, she married Douglas Sasseen in Mountain Home, Arkansas.
She is survived by four children: Bobby (Myra) Sasseen of Caulfield, Missouri, Trish (Bill) Talley of Bakersfield, Missouri, Beth (Gary) Pickle of Gamaliel, Arkansas, and Susan Sasseen of Gamaliel. She also leaves behind 9 grandchildren: Shyla Simpson, Kashia Zumwalt, Chad Talley, Brooke Osterkamp, Alex Talley, Phillip Pickle, Geoffrey Pickle, Saige Webster, and Delaney Smith, 14 great-grandchildren, her sister June Scott and husband, David Crawford, her brother-in-law, Bob Talburt, and a very special niece and nephew, Michelle and Roger Talburt.
She was preceded in death by her husband, her parents, two brothers, four sisters, and several very special in-laws.