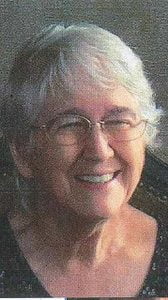 Funeral services for Evalena Ann Erzinger, 81, Palm Bay, Florida, will be held at 10:00 a.m., Thursday, July 19, 2018 at New Liberty Baptist Church, under the direction of Robertson-Drago Funeral Home.
Mrs. Erzinger passed away at 2:35 a.m., Monday, July 16, 2018 at Ozarks Medical Center.
She was born March 16, 1937, at Kansas City, Kansas, to Michael Bryan and Evelyn Pinnick Bryan. On June 2, 1957, she was married at Milan, Missouri, to Leroy Erzinger. Mrs. Erzinger was a teacher and earned her college degrees from Southwest Baptist College in 1957 and Grand Canyon Baptist College in 1959. She was a loving wife and mother and enjoyed life and spending time with her children. Mrs. Erzinger was a Christian.
She is survived by her husband, Leroy Erzinger; two children, Alan Erzinger and Linda Erzinger and husband, James May; one grandson, Jarred Erzinger; six brothers-in-law and sisters-in-law, Laura Peterman and husband, Joe, Jeanne Erzinger, Paul Erzinger and wife, Opal, Julia Hopkins and husband, Royce, George Erzinger and wife, Linda and John Erzinger and wife, Beverly; and many nieces and nephews.
Her parents, and one brother, preceded her in death.
Mrs. Erzinger will lie in state from 5:00 until 9:00 p.m., Wednesday, at Robertson-Drago Funeral Home. Burial will be in the Lone Pine Cemetery. Memorial contributions may be made to Hope Ministry of Palm Bay, Florida and may be left at Robertson-Drago Funeral Home.