William Roy Chritton, Jr.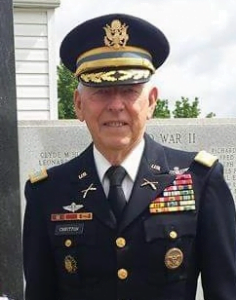 William Roy (Bill) Chritton, Jr., died July 1, 2021, at NHC in West Plains, Missouri, at the age of 88.
He was born on May 13, 1933, the son of William Chritton, Sr. and Margaret Chritton, in Pomona, Missouri. He attended Bridges School, a one-room schoolhouse, through eighth grade. He was the only eighth-grader in the school when he met Wanda Lee Weatherford, who attended neighboring Turner grade school, in a softball game. He was pitching when she hit the winning homerun.
Despite his bruised ego, they began dating when they attended West Plains High School, in the class of 1951. Shortly after high school, Bill was drafted into the United States Army. Bill and Wanda married in 1954 at the Mt. Zion Church, from this union came four children. They spent the next 26 years moving to various Army posts in Missouri, Kansas, Texas, Georgia, Alabama, and Virginia, as well as a three-year stint in Vicenza, Italy. Bill completed his bachelor's degree in business at Benedictine College in Atchison, KS.
Bill had two tours in Vietnam, including one tour as a Huey gunship pilot. He received numerous commendations including two awards of the Legion of Merit, three Distinguished Flying Crosses, the Bronze Star, and 39 Air Medals. Many of the Air Medals had the "V-device" awarded for Valor; one was awarded for setting the record for the most combat hours flown in a month.
The family spent the last ten years of his military career in Washington, D.C., where he worked at the Pentagon in the Secretary of the Army's office, served as Chief in the Office of Congressional Legislative Liaison, and received a master's degree in international affairs from George Washington University through the National War College.
When Bill retired as a Colonel in 1980, he and Wanda returned to their hometown of West Plains, Missouri, where they had a strawberry farm for many years. When they weren't raising strawberries, they could be seen flying their hot air balloon in the West Plains area, where they gave rides to hundreds of area residents. Bill served on the Ozarks Medical Center board and in many civic organizations over the years.
Then, Bill found a higher purpose. One day, Ken Harper and Gary Frazier visited Bill in the strawberry patch, and asked him to become an investor and chief pilot for a helicopter air ambulance company. In 1985, Bill, Ken, Gary and other investors launched Air Evac, EMS, with one helicopter based in West Plains. Air Evac was the first company to base a helicopter in a rural area, and the first to offer memberships.
Bill eventually became President of the company, and later served as the chairman of the board before selling the company in 2004. By that time, they had changed the name to Air Evac Lifeteam. The company had 41 bases in fourteen states and was the largest independently-owned air ambulance company in the United States. During that 20-year span, Air Evac employed thousands of people and saved countless lives throughout their coverage area.
Bill left behind a large family, including his wife Wanda, their son Michael Chritton and wife Sonia of Boulder, Colorado, two daughters, Vicki Chritton-Myers and husband Ron of West Plains, and Toni Johnson and husband Dennis of West Plains. They also have six grandchildren, Tyson Chritton, Denver, Co., Tawny Chritton-Keene, Knoxville, TN., Nick Myers and William Myers of West Plains, John Chritton, Alexandria, Va., and Mallary Butler, Summerville, S.C., and nine great-grandchildren.
Bill also is survived by four younger sisters, including Wilma Brixey, Springfield, Mo., Shirley Martin, Sedalia, Mo., Erma Chritton, Bolivar, Mo., and Barbara Wood, Linn Creek, Mo., as well as a close-knit extended family of in-laws, nieces and nephews. The "Chritton Clan" is a tightly-knit family and Bill was the well-loved patriarch.
He was preceded in death by his parents and his son, Daniel Roy Chritton, who died at the age of 52.
Those who knew Bill Chritton know he was a force of nature. When he set his mind to accomplishing something, nobody could stop him. He was a man of high integrity, true grit, and boundless determination.
The family is inviting anyone who would like to celebrate Bill's life to an outdoor funeral service at 1 p.m. on Tuesday, July 6, 2021, at Rubydoo's Vintage Events, 9240 County Road 9190 in West Plains.
A live-stream of the service will appear on Bill's Facebook page, William R. Chritton, at https://www.facebook.com/profile.php?id=100010715827647.
A military burial will take place at Mt. Zion church in Pomona immediately following the funeral service.
In lieu of flowers, donations can be made to the cemetery fund at Mount Zion Church in Pomona, Mo., or to the Ozarks Healthcare Foundation through Robertson-Drago or by drop-off at 211 West Main, West Plains.