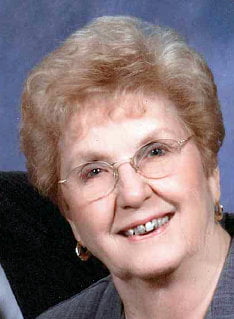 Funeral services for Wilma Lodema DeShazo, 82, West Plains, Missouri, will be held at 11:00 a.m., Monday, August 18, 2014 at the First Baptist Church of West Plains under the direction of Robertson-Drago Funeral Home.
Mrs. DeShazo died 12:15 p.m., Thursday, August 14, 2014 at the St. Louis University Hospital, St. Louis, Missouri. She was born November 29, 1931 at Thayer, Missouri to William Wiley Stapleton and Thelma Lodema Shepard Stapleton. On June 25, 1950, she was married at the Amy Union Chapel at Hocomo, Missouri to Wayne DeShazo.   Mrs. DeShazo was a long time representative for Stanley Home Products; she was a member of the Amy Union Workers and the Veterans of Foreign Wars Auxiliary.  Mrs. DeShazo was a member of the First Baptist Church of West Plains.
She is survived by her husband, Wayne DeShazo, of the family home; five children, Bruce DeShazo, wife, Anna, Glenpool, Oklahoma, Michael DeShazo, wife, Lori, Rocheport, Missouri, Larry DeShazo, Diana Brown, husband, Danny and Melinda Brenton, husband, Bryan, all of West Plains, Missouri; twelve grandchildren, Kevin DeShazo, wife, Megan, Michael DeShazo, Jr., Christopher DeShazo, Lance DeShazo, Crystal DeShazo, Carly DeShazo, Daniel DeShazo, Austin DeShazo, Devin Brown, wife, Amanda, Danielle Brown, Makayla Ray and Brandy Woody; eight great-grandchildren; and several special nieces, nephews and cousins.
Her parents and two brothers, J.W. Stapleton and William Stapleton, precede her in death.
Mrs. DeShazo was a devoted wife, mother, and grandmother; God , family and friends were her life.
Visitation will be from 4:30 until 6:00 p.m., Sunday, August 17th, at Robertson-Drago Funeral Home. Burial will be at the Homeland Cemetery. Memorial contributions may be made to the Homeland Cemetery or Amy Cemetery and left at Robertson-Drago Funeral Home