Aniah Jean Coffel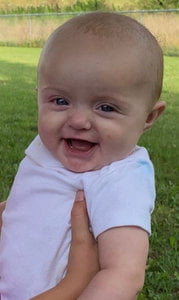 Aniah Jean Coffel, daughter of Levi Coffel and Ashley Corkin, passed away Wednesday, August 9, 2023. 
She was born February 10, 2023, at Ozarks Healthcare, West Plains, Missouri.  Though she lived a short six months on earth, she made an everlasting impact on those who knew her.  She was a smiley baby who loved being talked to, loved being outdoors and had a very special bond with her siblings and family.
She is survived by her parents; two siblings, Aiden and Ava Coffel; paternal grandfather, Jeff Coffel; paternal grandmother, Amanda Coffel and Lucas; maternal grandfather, Richard Corkin; maternal grandmother, Dawn Jensen; maternal great-grandfather, Richard Jensen; a host of aunts, uncles and cousins; and special friends, Michael Franz and Tasha Tyner.  
A private Celebration of Life Service will be held.  Arrangements under the direction of Robertson-Drago Funeral Home.