Barbara Ruth Downen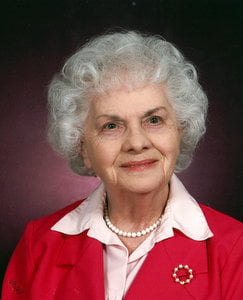 Funeral services for Barbara Ruth Downen, 90, Seymour, Missouri, formerly of West Plains, Missouri, will be held at 2:00 p.m., Thursday, June 17, 2021 in the Rose Chapel at Robertson-Drago Funeral Home. 
Mrs. Downen went home to be with her Lord and Savior on June 11, 2021.
She was born March 27, 1931, in Hutton Valley, Missouri, the first of seven children, to Richard Warren Myers and Gladys Neoma Webb Myers.  On August 29, 1951, at First Assembly of God Church in West Plains, she was united in marriage to Teddy Paul Downen, whose home going preceded her on February 23, 1994.  A graduate of West Plains High School, Class of 1949, Barbara went on to receive a Bachelor of Science Degree in Elementary Education.  She worked for nearly thirty years in West Plains and the rural schools, retiring from Fairview School in 1995.  Mrs. Downen has been a member of the Assemblies of God Church since she was sixteen years old.  She was also a charter member of Faith Assembly in West Plains since 1974; she and Ted were active in its organizations.  After moving to Seymour, she attended the Seymour Nazarene Church, touching many lives in the community.  She truly loved the Lord, her husband and her children.  Her brothers, sisters, nieces and nephews have always been dear to her.  Her grandchildren and great-grandchildren have been a joy and delight.  If grandma could be here, you would hear her say "Remember what I have told you.  Love is one thing that lasts forever and even though you can't see me, I am still eternally alive and loving you forever and ever."
She is survived by two granddaughters, April Gillogly and husband, Shawn, Springfield, Missouri and Suzanna Smith and husband, Rowdy, Seymour, Missouri; two step-grandchildren, Scott Miller and Sandy Miller; five great-grandchildren, Isabella, Trenton and Jillian Smith, Patricia Miller and Kenneth Hicks; two sons-in-law, Raymond Miller, Peace Valley, Missouri and Danny Patterson, Seneca, Missouri; her siblings, Randal T. Myers and wife, Carrie, Decatur, Alabama, Emma Sue Hawks, Doniphan, Missouri and Joan Kruger and husband, Bill,  Omaha, Nebraska; and many nieces and nephews. 
Her parents, her husband of forty-three years, her three children, Gary Paul Downen, Ruth Ann Miller and Cheryl Sue Patterson, one granddaughter, Melody Ann Patterson, two brothers, Bill Myers and Reverend Frank (Vern) Myers and one sister, Rena Rivera, preceded her in death.   
Visitation will be held from 1:00 until 2:00 p.m., Thursday, at Robertson-Drago Funeral Home.  Burial will be in the Oak Lawn Cemetery next to her husband.  Memorial contributions may be made to Gideon Bible Society and may be left at or mailed to Robertson-Drago Funeral Home, 211 West Main, West Plains, MO  65775.