Glane Edwin Dobbs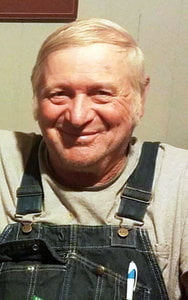 Graveside services for Glane Dude Edwin Dobbs, 73, Dora, Missouri, will be held at 10:00 a.m., Saturday, August 7, 2021 at Hale Cemetery, under the direction of Robertson-Drago Funeral Home. 
Mr. Dobbs passed away at 1:30 a.m., Sunday, August 1, 2021, at Ozarks Medical Center. 
Glane was the youngest son of Anderson Abraham Dobbs and Edna Alice Dye Dobbs. He was born on March 20, 1948 in Dora Missouri. He graduated from Dora High School in 1966. In 1968 Dude enlisted in the United States Air Force and served in Madrid Spain for 3 1/2 years before being honorably discharged with status Sergeant First Class in 1972. When he returned home from overseas in 1972 he met and fell in love with Katherine Kay Kelley and they were married on May 27, 1972 where they have remained residents of Dora. This was his home and he loved his country, his wife, his children/grandchildren and all of his family and friends. He will be greatly missed. Mr Dobbs made his life being a dairy farmer, a logger, and a car man among many other things. He was very talented in the auto body and restore process. His passion was all about taking old rusty shells of metal and magically transforming them into the original masterpieces they once were. Dude was so talented in restoring "trash to treasure" that he was the focus of an article in Chevy magazine titled "Field of Dreams" where he chose to remain anonymous to protect his family and property.
He is survived by his wife, Kay Kelley Dobbs; three sons, Kenneth, Joseph and Ethan Dobbs; four daughters, Kari Leroy, Sandra Martin, Amanda Massey and Charity Bledsoe; four siblings, Lena Fern, Dottie, Wendell and Dwain; nineteen grandkids; ten great-grandkids; along with numerous nieces and nephews.
Glane is preceded in death by his parents, one son, Kella Dobbs, two grandchildren, Devon K. Massey and Danekka Hailey Rae Dobbs, a nephew, Sherman Dobbs and a niece, Vickie Dobbs.  
Mr. Dobbs will lie in state from 6:00 until 8:00 p.m., Friday, at Robertson-Drago Funeral Home.  Memorial contributions may be made to Hale Cemetery and may be left at or mailed to Robertson-Drago Funeral Home, 211 West Main, West Plains, MO  65775.