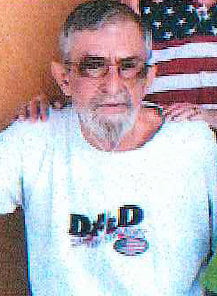 Harold "David" Wood, 66, Koshkonong, Missouri died at 9:32 a.m., Monday, January 12, 2015, at his home.
He was born January 19, 1948, at Olden, Missouri, to Lester Joseph Wood and Faye Burgin Wood Bennett. On May 29, 1964, he was married at Memphis, Tennessee, to Ginger Nicholson. Before his retirement, he was employed with DRS, formerly known as Southwest Truck Body for thirty-seven years. Mr. Wood was a hard worker, always keeping busy and in his spare time he enjoyed fishing and hunting.
He is survived by his wife, Ginger Wood, of the family home; one son, Harold Wood, Jr. "Crockett", of the family home; three grandchildren, Robbie Wood, Samantha Bunch and Tommy Mowery; two great-grandchildren, Holli Wood and Lane Bunch; one brother, Elroy Wood, Pomona, Missouri; three sisters, Pat Holloway, West Plains, Missouri, Bonnie Johnson, Osage Beach, Missouri and Emma Powers, Cape Girardeau; and several nieces and nephews.
His parents, one daughter, Cathy Wood, one son, Joe Wood, one brother, Bill Wood and two sisters, Norma Williams and Freda McAmis, precede him in death.
Arrangements under the direction of Robertson-Drago Funeral Home.