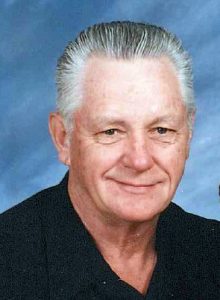 A celebration of life service for Johnnie Edward Brasier, 79, Pomona, Missouri, will be held at 10:00 a.m., Saturday, June 18, 2016 at Pomona Christian Church.
Mr. Brasier departed this world at 1:29 a.m., Friday, May 27, 2016 at his home.
He was born August 27, 1936, at Evening Shade, Missouri, to Bill and Pansy Crews Brasier.  John was united in marriage to Judith Ann Caton on December 31, 1961.  They were blessed with three sons, Joey, Rick and Jeff.  John was employed at Howell-Oregon Electric Cooperative for thirty-three years in the service department and as a lineman.  He was always willing to help anyone.  John loved his wife and sons with all his heart.  Some of his greatest joys were traveling with his wife and teaching his sons hunting, fishing and auto mechanics; and watching them excel at basketball.  He was most proud of the caring husbands and fathers they became.  John grew up in Roby, Missouri and went to wheat harvest out west at the age of fifteen until his senior year when he graduated from Plato High School.  Following high school he served in the United States Marine Corps for four years and was honorably discharged in March of 1961.  He met his wife-to-be in Springfield through mutual friends, Bob Gastineau and Charlene Smith.  The two couples were joined in marriage in a double ring ceremony on December 31, 1961.  John became a Christian at age eleven and was baptized at Roby Christian Church.  The family attended Pomona Christian Church.
He will be missed by his family, numerous friends, extended family and countless others he touched through his work and life.
He is survived by his wife of fifty-four years, Judy; three sons, Joey and wife, Brenda, Rick and wife, Tracy and Jeff and wife, Dawn; four grandsons; two granddaughters; one great-grandson; one sister, Berna Dene Winfrey; and one brother, William "Bill" Brasier.
His parents precede him in death.
Interment will be in the Howell Memorial Park Cemetery.  In lieu of flowers, memorial contributions may be made to the Pomona Christian Church Building Fund, 5040 CR 1390, Pomona, MO  65789 or may be left at Robertson-Drago Funeral Home.