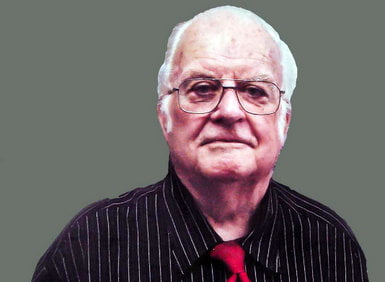 Funeral services for Lynn M. Hixon, 90, Willow Springs, Missouri, will be held at 2:00 p.m., Saturday, July 26, 2014, in the Rose Chapel at Robertson-Drago Funeral Home.
Mr. Hixon died at 1:25 p.m., Friday, July 18, 2014, at Willow Springs, Missouri, surrounded by his close family.
He was born September 23, 1923, at Uniontown, Kansas, to Rolla Hixon and Bernice Boileau Hixon. On September 22, 1942, he was married at El Dorado, Kansas, to Katy Wadsack, who preceded him in death on March 25, 2009. He was a member of the Church of Christ since his burial in baptism on November 9, 1947, and was the current minister of Pomona Church of Christ. He preached over sixty-six years in the pulpit and radio work for over fifty-eight years. He ministered at gospel meetings in many states including brush arbor and television.
He is survived by two children, Rita Jane Turpin, Willow Springs, Missouri and Lynn Hixon, Jr. and wife, Rhonda, Independence, Missouri. He was a grandfather with grandchildren, great-grandchildren and great-great-grandchildren. He is also survived by his sister, Roberta Davis and husband, Warren, Fort Scott, Kansas; his nieces and nephews; and his church family and friends.
His parents, wife and a little brother, William Herbert Hixon, precede him in death.
Visitation will be held from 6:00 until 8:00 p.m., Friday at Robertson-Drago Funeral Home. Burial will be in the Willow Springs Cemetery. Memorial contributions may be made to Fair Haven Children's Home or Church of Christ Disaster Relief Fund, and may be left at Robertson-Drago Funeral Home.